KANAMARU PRIMARY SCHOOL'S LOCATION
---
the Arakawa river and the Kanamaru neighborhood

This view, facing up the Arakawa river, is from the summit of Happosan, a mountain that towers above our school. Upstream is Yamagata Prefecture. The road running along the river is National Route 113. Kanamaru Primary School is in the middle of the Kanamaru neighborhood, at the lower right of the picture.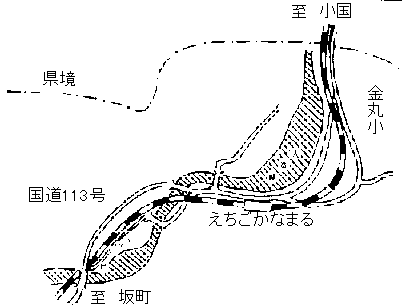 Kanamaru is located on the eastern edge of the northern part of Niigata Prefecture, two kilometers from the border of Yamagata Prefecture. It's on a low hill overlooking a reservoir on the Arakawa.
Our school district includes three small neighborhoods: Kanamaru and Yatsuguchi, which lie along R113, and Maeze, which is across the river from Kanamaru.
     ・Kanamaru has 37 households.
    ・Yatsuguchi has 12 households.
   ・Maeze has 2 households.


The main industry of our area is farming and forestry. But this is all done part time; in most families the mother and father both have other jobs.


We are part of the village of Sekikawa, but its central neighborhood, Shimoseki, is 14 kilometers away. The center of Oguni Town, in Yamagata Prefecture, is 9 kilometers away. So we have relations with both of them.

    Our address: 
       Kanamaru 118-5
       Sekikawa-mura, Iwafune-gun 
       Niigata-ken 959-32 
       Japan
                  Telephone 0254-64-2422
                  Facsimile 0254-64-2422

E-mail

kanamaru@nice.or.jp